MARPOSS
3300 Cross Creek Parkway
Auburn Hills, MI 48326
United States of America

P: 248-370-0404
F: 248-370-0621

---
About MARPOSS
Marposs is a worldwide leader in precision equipment for measurement and control in the production environment.  Inspection, measurement and process control solutions include gauges and compensation systems for grinders and other machine tools; manual gauges, sensors, probes and other gauge components; automatic and semi-automatic measurement and inspection systems; leak test and assembly solutions; hardware and software for data collection and process analysis, and equipment for non-destructive testing.  
This year at IMTS, Marposs will be demonstrating guided sequence gauging using augmented reality (AR).  Visitors to this area of the booth will be provided AR glasses that guide them through a sequence of steps and measurements to check features on a cylinder head component using the Marposs iWave2 handheld wireless gauge and a Go/NoGo gauge.  As visitors progress through the sequence, the perception will be that the measurement information is adhering to the workpiece.  
This AR experience is just one of many demonstrations occurring in the Marposs booth, where visitors will be provided a tour that illustrates how Marposs measurement and inspection solutions can be applied to improve manufacturing processes from before, during and after the machining operation.  Other stations will feature machine tools to demonstrate tool setting, probing, machine monitoring and robotic gauging.  Additionally, there will be stations on dynamic grinding including its BLU single cable control system, bench gauging, automated machine inspection, and leak testing.  Nearly 50 Marposs' products will be displayed or demonstrated at the show.
Tradenames (10)
BLU Modular Process Control System
DITTEL Components for Control of Grinding Applications
DUO Two Channel Compact Gauging Computer
GENIOR MODULAR Tool & Process Monitoring System
iWave2 Wireless Bore Gauging
M62 FLEX Gauging for Gear Inspection
OPTOFLASH 2D Optical Measuring Unit
OPTOQUICK Flexible Measuring Unit
VOS Optical Transmission System for MC's
WRS Radio Transmission System for MC's
Articles & Product Announcements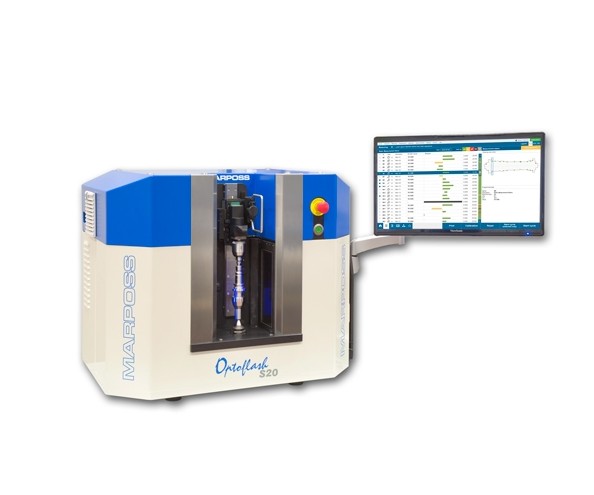 IMTS 2018: Marposs is exhibiting its Optoflash optical measurement and inspection solution for small-size shafts, fasteners and dental implants.
read more on mmsonline.com